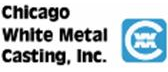 Founded as a custom die caster in a Chicago loft in 1937 by Walter Treiber, Sr. and Samuel Gullo, Chicago White Metal Casting operates today under third-generation Treiber family management from a modern 136,000 sq. ft. facility in Bensenville, Illinois, near Chicago's O'Hare International Airport.
Chicago White Metal is rated by Dun & Bradstreet as 3A2. With over 70 years of innovation, CWM delivers high-tech die castings in aluminum, magnesium and zinc for a wide range of applications: to net- and near net-shape with thin walls and critical tolerances that newer so-called metal-molding processes cannot consistently match.
See the Baselodge Tech Room for a helpful die casting design guide and several technical papers from Chicago White Metal.
Baselodge represents CWM in TEXAS, NEW MEXICO, OKLAHOMA, and LOUISIANA